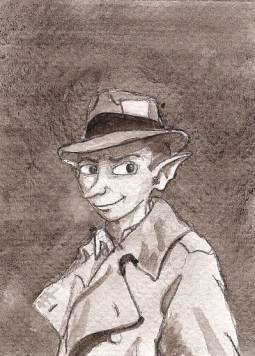 Fred the Elfling here again. I'm talking to Snowdrop of "An Elvish Christmas and the Secret of Santa Claus" fame. Spring is here the robins are headed back to town, so what does a Christmas elf do this time of year?
Snowdrop: Anyone in a seasonal business knows it's never to early to start working on the next year. We may do all of our trade in a remarkably short period of time, but that only happens through constant planning and preparation through out the year.
Fred: Hmm guess those naughty and nice lists do take a while to get though.
Snowdrop: Tell me about it. And of course we care about naughty behavior in the spring. It's not like were some awards show where we only care what happened the month before the awards.
My personal job isn't as seasonal though, as I work in quality control.
Fred: You do take vacations though, right?
Snowdrop: Oh sure. Usually a few days off after the big show. The early fall is a big vacation time too. People like to rest up before the big push. But we have fun all the time. We love our work and then we all have our hobbies too.
Fred: So what does a Christmas elf do for fun? Ice fishing?
Snowdrop: Nine-pins.
Fred: I'm an elfling too and I know what that is, but for the benefit of our readers could you explain what nine-pins is?
Snowdrop: Sure Nine-pins is an ancient form of what most American's call bowling. It's been around since the time of the Ancient Egyptians. Modern American Bowling uses ten pins and slightly larger balls. The older nine pin game is still played in Europe. There are actually lots of variations.
Fred: Most people don't associate bowling with elflings.
Snowdrop: For some odd reason the papers don't cover the fairy sporting world. But Henry Hudson's encounter with bowlers is well known.
Fred: Henry Hudson?!
Snowdrop: Right. The story that inspired Rip Van Winkle. Henry Hudson had a classic encounter with fairy folk. He heard strange music off in the distance and decided to follow. He ran into a bunch of short bearded folk that were bowling.
Fred: So there are elflings in the Catskills?
Snowdrop: Well...you didn't hear that from me. I can't comment officially. But if you look around there are lots of rumors of 'Gnomes' in the Catskills. Let's just say that if there were fairy folk there, they'd probably have one heck of a bowling team...which would probably be playing us next week.
Fred: Interesting if vague. Well, glad to know that our Christmas elves keep busy throughout the year.